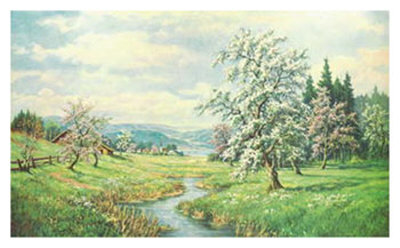 www.allposters.com
In a few weeks it will be Spring! This morning the birds were singing and chirping outside my bedroom window. I love it!
Soon we will be planting our garden, and watching it grow. This is so satisfying to me. Are many of you gardeners too? I am new, just a few years, to veggie gardening, but have had flower gardens for years.
"It is the first mild day of March
Each minute sweeter than before
The redbreast sings from the tall larch
That stands beside our door.
There is a blessing in the air,
Which seems a sense of joy to yield
To the bare trees, and mountains bare,
And grass in the green field."
My Emily has a birthday this month as well. She is one year away from adulthood. How can this be?
Only yesterday she was a wee fuzzy headed baby with personality galore - she hasn't changed much, except the fuzzy headed part, perhaps.
I hope is that you are as blessed in your daughters as I am in mine. What a joy to have these girls who grow from infancy to adulthood before your eyes and who grow in the grace of the Lord. As they mature they still need guidance and a listening ear. They still need you. But I find that just as much I need them. They are a joy to me and the dearest of dear friends.
Well, breakfast is ready. Rachel helped me make biscuits and gravy this morning. Later we are going to make use of some over ripe bananas to make banana bread. Yum!
I pray that your day will be full of delight.