Home Keeping - Are We Thankful?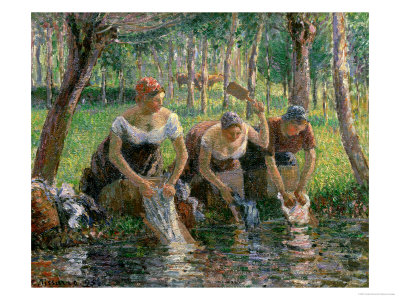 www.allposters.com Les Lavandieres, The Washerwomen - Camille Pisarro
The work of managing a home is never ending.
It is daily tasks that must be done, to ensure a well functioning home. Some tasks are more pleasant to us than other tasks, depending on our personalities and interests.
Years ago when my older children were small - so young in fact that several of my children weren't born yet, I had a hard time keeping up with everything. Partly it was because of not being organized and partly it was from laziness. I was home educating, and running my home, and doing a million other things. That was the problem, I believe...the million "other things."
I didn't love my home then, the way I love it now. I wanted to always be going somewhere or "doing something."
The Lord has graciously changed my heart in this matter. I love my home, because I love the One who gave it to me. He is the one who has blessed me with my family and the ability to "make" my home. I am the one who decides if my home is going to be a place of blessing or cursing not only for those of us who live here, but for those who visit our home.
In those years when my older children were little, and I started to love my home, my husband volunteered for laundry duty. I am sure it was because he wanted to be sure to have clean work clothes when he needed them! He said "I cannot help you with their schooling, but I can ease your burden by doing laundry." He faithfully did laundry for years and frankly still does at times, though the girls and I are doing it more and more. We actually were a team on this because he would gather the laundry, and get it washed and dried and I would fold it all and put it away. I told this to a lady I know once and she said "Well, it's not really doing the laundry for you if you have to fold it and put it away!" I was so shocked by her attitude and said "I am really grateful that he does this for me. It is such a help!"
I realized that day that she was one ungrateful woman.
When I am tackling the laundry, whether sorting and washing or simply folding and putting it away, I am grateful. I look at the piles of laundry and see the blessings I have been given.
That huge pile of dirty jeans? Those belong to my husband - I am thankful I have such a godly, caring husband! He works hard for us in those jeans.
All those dish towels? Those are the result of having the blessing of having lots of company at our home! We are so thankful for the fellowship of our church family, our family, and others who come our way!
Those cute little shorts and t-shirts? Those belong to my little man...he is a hard working and hard playing guy! He is such a gift to us!
All those beautiful colored shirts, skirts, blouses? Those belong to me and my daughters! I have been so blessed with my four daughters, they are special. I am so thankful for them!

When I clean my kitchen or do dishes, I see all my blessings....in fact every area of my house attests to just how blessed we are. It is not because we have a fancy house, or expensive things...it is just that we have a house and things! God has given us so many good things.
I don't always succeed at being thankful for the messes that my kids create or at more dishes to wash at night when I think I am all done for the evening....but I have learned to be thankful. I believe it is a lesson that will continued to be taught and learned for many years to come, and one I hope to pass on to my children.