Tonight we are having a Learning Fair at our co-op. These are fun. I love to see what everyone has been working on throughout the year, or what their favorite books are or favorite country. We often do themes. The best year was a Countries theme and we made passports for all the folk who came and as they went through to every table (or country) they would get a sticker or get a stamp in their passport! It was very cool!
Tonight's Learning Fair does not have a theme. I signed us up to participate before the 3 weeks of sickness, and thought I would have to back out. I just couldn't muster the enthusiasm to do a display (again) of horse related stuff, and then inspiration (Thanks Lord!) - we would do our table display on one thing that we do everyday or at least several times a week. Baked goods!
www.allposters.com
The kids love to cook and bake and so we are offering up Sarah and Kyle's chocolate chip cookies, Rachel's oatmeal cookies, Emily's brownies and lemon bars and Lindsay is making bread!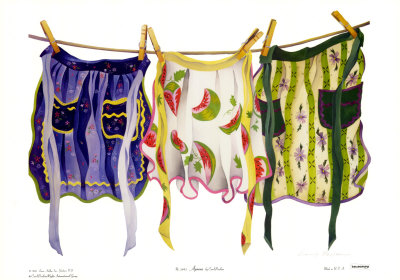 www. allposters.com
They will all have their cute aprons on, and will be offering samples and recipes, perhaps. We are going to decorate with a cute table display and have already purchased a beautiful bouquet of flowers that Rachel and Sarah wanted for our display!
I will take lots of photos tonight or have Lindsay do it! We'll post them tomorrow.
We love our co-op and the families that participate in it. It is our last year in co-op though. I have decided to step down as leader, don't know if I have mentioned that before here. There are many reasons, but the main one is that the Lord let me know that it is time. I find it bittersweet though. My great joy is to encourage home educating moms. I hope that the Lord will still give me an outlet for this.
One thing I didn't expect though was to feel replaced before the year was over. In a way it is understandable - this time of year is all about planning next year's classes. God is so good though and I know without a doubt this is the way He would have us walk.
On a bright note, I am looking forward to weekly field trips with my kids, without worrying that I have forgotten to call someone or email something. I am looking forward to a relaxed home school year with just three students next year!
Have a great day!