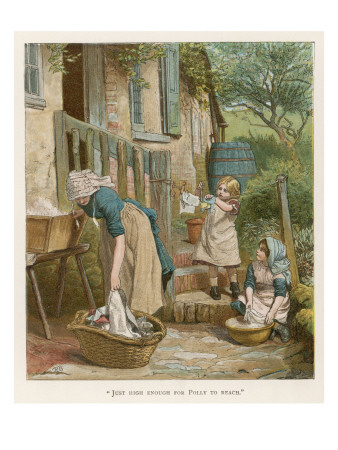 In the "Little House on the Prairie" books Ma had work that was specific to each day.
"Wash on Monday,
Iron on Tuesday,
Mend on Wednesday,
Churn on Thursday,
Clean on Friday,
Bake on Saturday,
Rest on Sunday."
Monday: Wash Day
Tuesday: Ironing Day
Wednesday: Sewing Day
Thursday: Market Day
Friday: Cleaning Day
Saturday: Baking Day
We generate a lot of laundry here at the cottage. Serious laundry. We basically do laundry every day.

I've been reading the book "Large Family Logistics" by Kim Brenneman, that I mentioned here.
She mentioned the same idea as Ma Ingalls had. Different work for different days.
Seeing as how today is Monday and we always have a lot of laundry from the weekend, today is a good day to start. I am hoping that if we can get all the laundry done today, that maybe we can only do laundry a few days a week, instead of every day.
I really do want to get organized and have a workable plan for keeping up with the vacuuming, dusting, cleaning out the fridge etc...instead of just trying to remember to get to it.
We have a lot of helping hands around here and it won't take long to get our daily work done, and that way the cottage is always tidy. Makes perfect sense doesn't it?
Now to actually implement it and make it work.
Gotta run.
We've got LAUNDRY to do today!