I want to keep a running update here on the blog for our planning of Rachel and Wes' wedding.
They've had their engagement photos done with their wedding photographer -
We have the dress -
As I mentioned before, we bought it online and I purchased a size up from her normal size. This ensured that we could have the dress fitted properly. The seamstress mentioned that I did the right thing buying a size up, because many dresses bought online don't have extra in the seams to take the dress out if needed. Fit is an area that was important to Rachel.
Also the seamstress noticed a pucker in the under layer, and has taken care of that along with being able to shorten the front of the dress (so Rachel doesn't trip) without losing the lace detail on the bottom of the dress. She's also putting in hooks and loops to bustle the dress for the reception.
We have the flower girl dresses -
The flower girls are Kamryn, Isla, and Klaire. Kamryn is 6 years older than Isla and Klaire, so her dress is a bit different than theirs, but they are all the same color.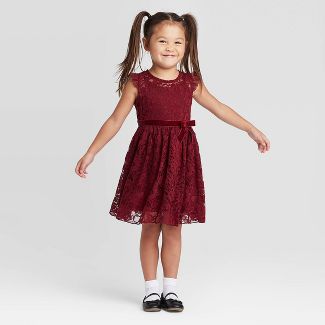 source
This is a photo of the little girls dresses.
We have our venue, our menu planned out, a caterer, a plan for the cake.
We are working on what kind of flowers for bouquets, boutonnieres, corsages. There will be peonies! I will order them in early April and we are going to do the flowers ourselves.
We have a plan for decor. Its going to be fresh and simple. The reception tables are rectangle seating 10 people so we are going with glass vases that will hold a flower and greens and will use about 6-8 per table so that the flowers go down the middle of the table rather than one centerpiece.
Here is an image from Pinterest of the idea -
source
We cannot buy the paper goods, plates, flat ware, cups or napkins until we get the rsvp's back in March.
The invitations have been ordered. My friend Amy has designed all of my kids wedding invitations. She even made a custom logo for Lindsay and Joseph's wedding.
We're looking at table markers, and Tim is making a focal point for behind the bride and groom during the ceremony.
I'm looking for a white dress shirt and new tie for Tim, a dress for me. Kyle has what he is going to wear, though he probably will need shoes.
We have 81 days until the big day, and I feel like we are on track to get everything done.